LONDON, England (CNN) -- British Airways has agreed to buy L'Avion, the French all-business class carrier and plans to integrate the airline into its recently launched subsidiary, OpenSkies.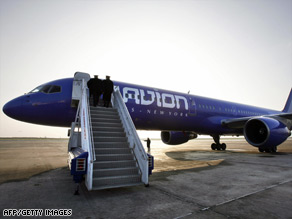 L'Avion was launched in January 2009 and employs 77 staff in Paris.
The $108 million (£54 million) deal marks the departure of the last stand-alone all-business airline following the demise of MAXJet, Eos and Silverjet over the last six months.
OpenSkies, launched on June 19 between Paris Orly and New York JFK, already operated a codeshare agreement with L'Avion that flies out of Orly to Newark, New York. Following integration, OpenSkies will increase the frequency of its Orly-JFK service to three daily flights.
OpenSkies currently operates one Boeing 757 with 24 flat-bed berths in business class, 28 seats in premium economy and 30 in economy. L'Avion, launched in January 2007, flies two Boeing 757s with 90 business-class seats. BA is yet to decide whether L'Avion planes will be changed to a three-class layout.
"L'Avion is a successful airline that has built up a premium business between Orly and New York in a relatively short period of time," said British Airways' chief executive, Willie Walsh in a statement.
"It has many synergies with OpenSkies and buying it provides OpenSkies with a larger schedule and an established customer base in the Paris-New York market."
Christophe Bejach, co-founder and chairman of L'Avion, said he was happy with the deal. "This transaction will strengthen our current base and enable the combined airline to grow faster and stronger."
Completion of the deal is expected this month and, if approved, full integration will take place in early 2009.
E-mail to a friend

All About Boeing 757 • British Airways plc