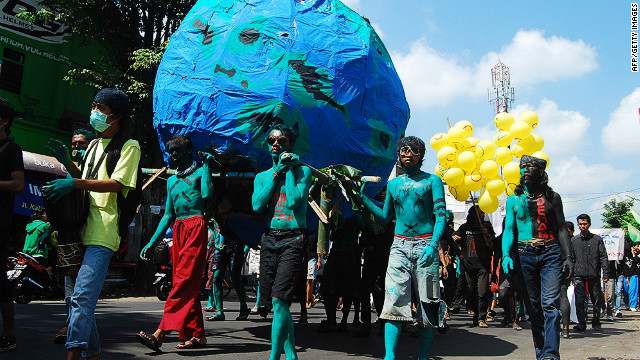 Environmental activists parade through the streets of Malang, Indonesia to mark the 42nd anniversary of Earth Day.
Environmental activists in Indonesia hold up plastic bottles during the Earth Day event.
Earth Day highlights all kinds of environmental projects from education to conservation around the world. Great Egrets at the Suchitlan lake, near the town of Suchitoto in El Salvador, have benefitted from the creation of an artificial lake formed by the Cerron Grande dam. The lake provides shelter for wildlife in the country.
Children in Kolkata, India hold a poster promoting this year's Earth Day.
Workers put the finishing touches to India's first one megawatt canal-top solar power plant at Chandrasan village of Mehsana district near Ahmedabad.
The solar panels sits atop a 750-meter stretch of the Sanand Branch Canal. The effort is part of the Sardar Sarovar Project developed by the Gujarat State Electricity Corporation Limited.
A woman plants a pine tree in Tatumbla muinicipality, Francisco Morazan department, Honduras. The Mayoralty of Tatumbl has prohibited the deforestation of the woods.
Volunteers participate in the reforestation of the 'Rosy Walter' zoo, on El Picacho hill, north of Tegucigalpa in Honduras to mark this year's Earth Day.
For Earth Day, U.S. non-profit-organization Green For All arranged for students in Atlanta to learn about sustainability and environmentalism. Children were taught a range of environmental activities from planting trees to energy-efficiency.
Students from Carter G Woodson Elementary School in Atlanta participating in the Green For All event.
People gather around the Moroccan flag in the country's capital, Casablanca to mark Earth Day.
The search engine marked Earth Day with a time-lapse animation of flowers bursting into color.
Plastics screw tops at a recycling plant in Juan Vinas, on the outskirts of San Jose, Costa Rica.
Earth Day 2012: Indonesian rally
Wildlife conservation
Kolkata, India
Canal-top solar power, India
Planting pines in Honduras
Green For All raise awareness in Atlanta, Georgia
Planting trees
Marking Earth Day in Morocco
Google doodle
Recycling waste