Firth fashions a green path for Hollywood
April 26, 2012 -- Updated 1551 GMT (2351 HKT)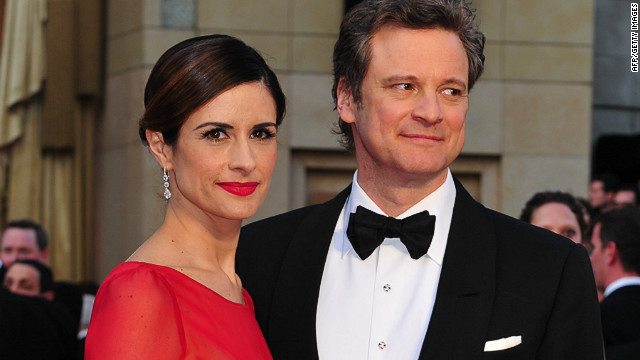 Livia Firth is a passionate advocate of green issues. She founded the Green Carpet Challenge with British fashion journalist Lucy Siegle in 2009. The effort to promote sustainable fashion at award cermonies and premieres has attracted some of the biggest names in film and fashion.
Firth and husband Colin attend this year's Vanity Fair Oscars party. Her gown is made from silk and fabric made from recycled plastic bottles.
Four-time Oscar nominee, Julianne Moore wears a Tom Ford creation made with recycled velvet.
Livia and Colin Firth attend the 69th Golden Globe Awards in January 2012. The dress, created by Italian fashion house Armani, was made from recycled plastic bottles.
Before she walked off with this year's Oscar for best actress, Meryl Streep walked down the red carpet in an eco-fabric certified gown made by Parisian fashion house Lanvin.
Michael Fassbender has also joined the Green Carpet Challenge, wearing a recycled wool suit to this year's British Academy Awards.
Firth wearing a dress made from upcycled fabrics, created by British fashion designer Henrietta Ludgate.
Ludgate says she upcycles many of her fabrics and produces everything locally.
Livia Firth's Green Carpet Challenge
Fair trade fashion
Julianne Moore goes green
Recycled fashion
Meryl Streep's eco-gown
Fassbender joins the fray
Upcycled designer gown
A passion for ethical fashion
STORY HIGHLIGHTS
Livia Firth's Green Carpet Challenge puts ethical fashion in the spotlight
Wife of Oscar-winning actor Colin, Firth founded the project in 2009
Firth has encouraged Hollywood's biggest stars to wear recycled clothes on the red carpet
London (CNN) -- The red carpet is fashion's grandest stage where stars line up to see and be seen. But who you are wearing is as important as who you are.
If Livia Firth, wife of Academy Award-winning actor Colin, gets her way, the kind of fabric you are wearing will be just as essential.
Now in its third year, the Green Carpet Challenge was established to persuade top designers to dress the world's most famous faces in clothing that is ecologically friendly and socially responsible.
"First of all, you want to wear something that is made with non-toxic materials and dyes and also that it's made by people who are happy fundamentally," Firth says.
She has worn yarn made from recycled plastic bottles to the Golden Globes, material from repurposed thrift store finds for the Oscars and discarded fabric to meet Queen Elizabeth II.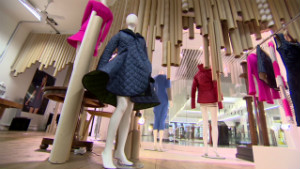 Stars come out for 'green' fashion
Now she is persuading some of the biggest names in film and fashion to follow suit including designer and film director Tom Ford, Hollywood legend Meryl Streep and rising star Michael Fassbender.
"A designer will create a gown for an actress anyway. So what we do is to work with the designers to switch the fabric to eco-alternatives," Firth said.
One of Firth's own "green carpet" triumphs was an emerald green gown made of upcycled fabric created from scratch by British designer Henrietta Ludgate who produces her designs out of a small workshop/showroom in London.
A designer will create a gown for an actress anyway. So what we do is to work with the designers to switch the fabric to eco-alternatives
Livia Firth
"We source from mills in Scotland and England. We upcycle fabrics and we produce everything locally. It's zero clothes miles," Ludgate said.
Sourcing fabrics this way allows Ludgate to oversee every step of the production process which she says leads to a superior product but not perhaps superior profits.
"People buy for design rather than sustainability. When they find out about it, I'm hoping that they will buy more!"
But fashion journalist Lucy Siegle would like to see people buying less.
She started the Green Carpet Challenge with Firth in 2009 in the hope it would encourage people to try new things with uncommon materials and clothes already in existence.
"Innovation, as it's told by mainstream fashion, is about wearing the latest look from the latest celebrity or whatever," Siegle said.
"Ironically, we are working with celebrities, but we're showing that it's not just about imitating a trend. It's actually about techniques, about tailoring and heritage fabrics. It's about the narrative of a piece," she added.
It's a trend that Livia Firth hopes will continue.
"Next year we hope to have a dedicated lane at the Oscars for the Green Carpet Challenge people," Firth said.

Today's five most popular stories
July 16, 2013 -- Updated 1213 GMT (2013 HKT)

More than two million people are dying every year from the effects of outdoor air pollution, according to a new study.
July 12, 2013 -- Updated 1228 GMT (2028 HKT)

What's better than fresh, locally grown fruits and vegetables? How about fresh, locally-grown, free fruits and vegetables, all within an easy walk of your home or office?
July 8, 2013 -- Updated 1017 GMT (1817 HKT)

Living amid the garbage-strewn sewage canals, residents of Haiti's Cite Soleil endure a grim battle for survival every single day.
July 10, 2013 -- Updated 1335 GMT (2135 HKT)

In just 12 years Vietnam cut the country's malnutrition rate in half by investing in small scale farming. Now other countries are following suit.
July 4, 2013 -- Updated 1332 GMT (2132 HKT)

We're all familiar with the phrase "waste not, want not," but how well are we applying these words today?
June 27, 2013 -- Updated 1413 GMT (2213 HKT)

Take a look into CNN Special Correspondent Philippe Costeau's photo diary of how Haiti can break a vicious cycle of deforestation.
October 31, 2014 -- Updated 1610 GMT (0010 HKT)

Philippe Cousteau recalls his grandfather's advice and asks how you'd like to look at the ocean in 10 years' time -- with regret or awe.
March 27, 2013 -- Updated 1507 GMT (2307 HKT)

We need to rebuild the ocean's abundance, variety and vitality. Without such action, our own future is bleak, say marine scientists.
March 22, 2013 -- Updated 1027 GMT (1827 HKT)

Getting water to every person on the planet can and should be done by 2030, argues WaterAid's Chief Executive Barbara Frost.
March 20, 2013 -- Updated 1550 GMT (2350 HKT)

Oceans cover more than two-thirds of our planet producing half of the oxygen we breathe and helping regulate our climate.
March 8, 2013 -- Updated 1157 GMT (1957 HKT)

Global warming has propelled Earth's climate from one of its coldest decades since the last ice age to one of its hottest -- in just one century.
July 17, 2012 -- Updated 0807 GMT (1607 HKT)

Dressed in a wet suit, air tanks on his back is an image of Jacques Cousteau most people would recognize. But he was also an inventive genius.