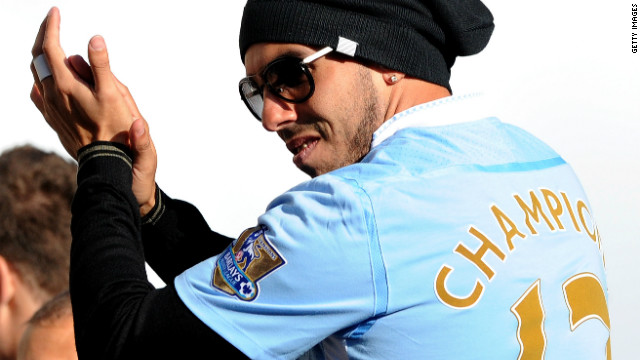 Carlos Tevez was forced to apologize after holding up a banner saying "R.I.P. Fergie" during Manchester City's victory parade -- a reference to United manager Alex Ferguson.
More than 100,000 fans gathered in front of Manchester Town Hall as the City team emerged with the EPL trophy.
Manchester City manager Roberto Mancini applauds his players as they celebrate in front of their fans.
Thousands of supporters crammed the route as the City team paraded the cup on an open top bus through the Manchester city center.
Sergio Aguero, the scorer of the late goal which clinched the EPL title for Manchester City, acknowledges the City fans during the parade.
Tevez in trouble
The pride of Manchester
Mancini salutes his heroes
Street party
Aguero the hero
STORY HIGHLIGHTS
Manchester City apologize for "tasteless" banner held up by Carlos Tevez during parade
Banner read "RIP Fergie'"referred to Manchester United manager Alex Ferguson
City chairman says the club's policy of big signings will change after title win
However, Ferguson says City will continue to spend "stupid money"
(CNN) -- It was Manchester City's big moment, a chance to show how far the "noisy neighbors" from the blue half of town have come from under the shadows of their big rivals -- but the day of wild celebrations ended with a humble apology to one of football's most iconic names.
When Carlos Tevez lifted a banner proclaiming "R.I.P. Fergie" during a victory parade marking a 44-year wait for an English league title, it brought into sharp focus comments by Manchester United manager Alex Ferguson back in 2009.
"Not in my lifetime," the Scot said when asked if his team would ever be underdogs against City.
United may not have been underdogs this season, but certainly had to play second fiddle as City won both league derby clashes and snatched the Premier League crown from Ferguson's team in the final minutes of the campaign, if only by the narrowest of margins.
Arabian dreams: Abu Dhabi celebrates title success
City officials, to their credit, moved quickly to say sorry.
"The creation of the tasteless material is in itself reprehensible and in accepting and brandishing it, Carlos has made a significant error of judgment," said a club spokeswoman.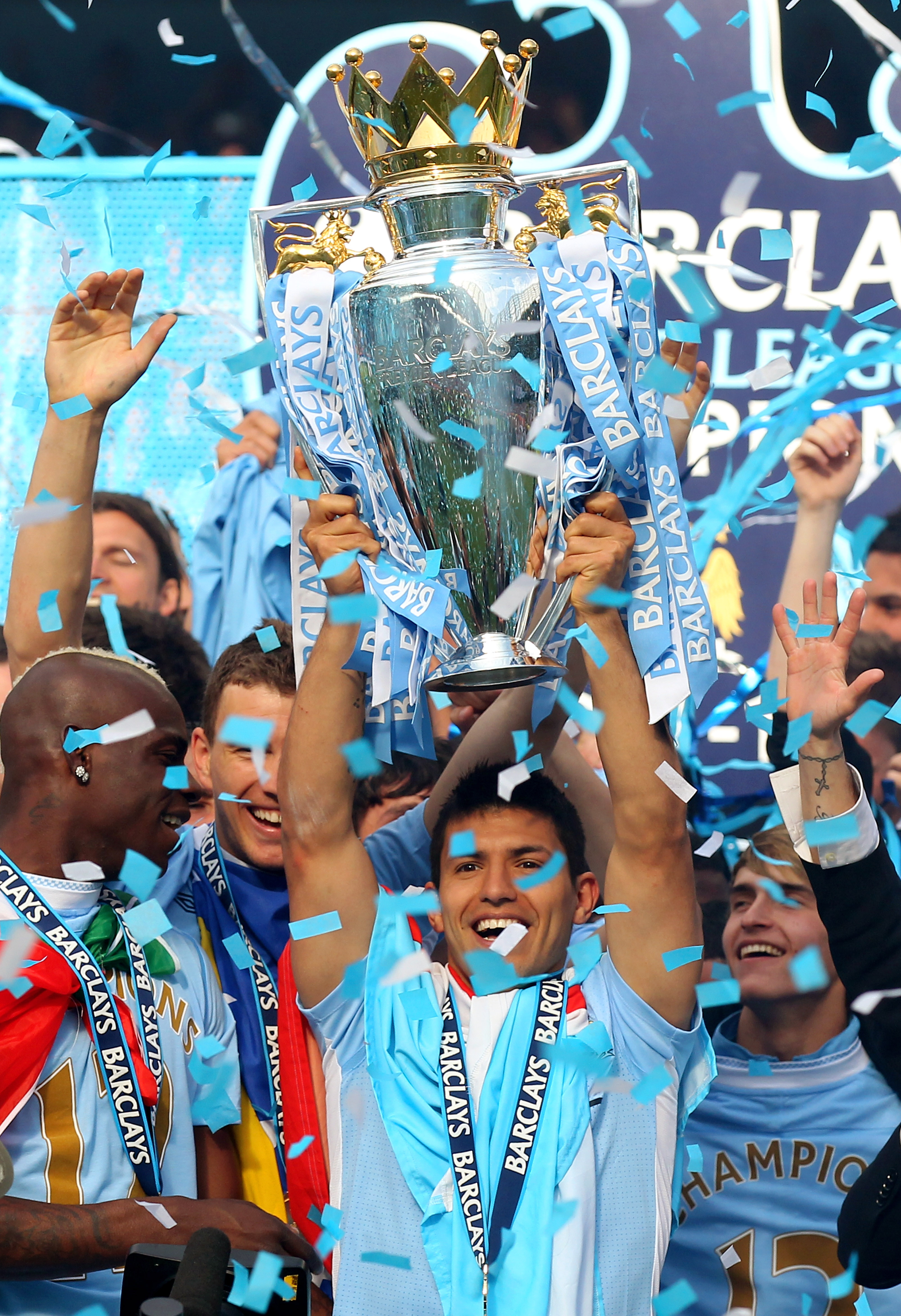 Clubs with Middle East owners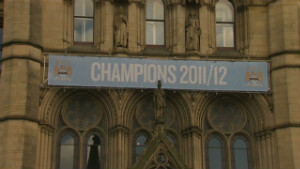 Fans celebrate Man City's sweet revenge
"The club wishes to express its sincerest apologies to Sir Alex Ferguson and Manchester United Football Club for any offense or distress caused."
Tevez, who has history with Ferguson after his acrimonious departure from Old Trafford to join City in 2009, was also contrite.
"I got carried away in the excitement of the moment and I certainly didn't mean any disrespect to Sir Alex Ferguson, who I admire as a man and a manager," said the Argentina international, who was given the banner by a supporter.
Did City win the title - or did United throw it away?
The incident took some of the gloss off an event that saw more than 100,000 people line the streets of Manchester to celebrate City's triumph.
However, chairman Khaldoon al-Mubarak was at pains to emphasize that the club's first title since the Premier League began 20 years ago is only a small step in the plans of City's Abu Dhabi owners, especially in context of United's 12 championships in that period.
"Manchester United set the benchmark for success for every club," Khaldoon said in an interview with City's website.
"I have the highest respect for Manchester United and Sir Alex Ferguson. To get 89 points and not win the league is unbelievable.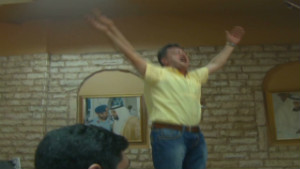 Abu Dhabi celebrates Man City win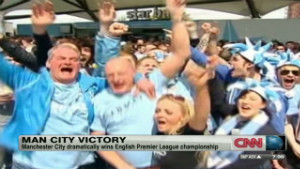 Fans celebrate Manchester City's big win
"We are trying to accomplish just some of what Manchester United have been able to do in the past. We look at teams like United, Barcelona, Real Madrid, AC Milan and Bayern Munich and what they mean to their cities.
"This is one step in that direction but there is a long way to go yet."
City's success has come, in large part, due to a spending spree of hundreds of millions of dollars on star players such as Sergio Aguero, Yaya Toure, Tevez, Samir Nasri, Mario Balotelli and David Silva, and there has been widespread speculation that Arsenal's Premier League-leading scorer Robin van Persie will be the next big-money buy.
But Khaldoon said the future emphasis would be on developing a new training and academy facility to nurture talent to comply with UEFA's new financial fair play rules.
"We have a championship-winning team. We are not starting from the same point as in other preseasons," Khaldoon said.
"We have had to improve in a very dramatic manner. Now we have a nucleus of players who have won the FA Cup and the Premier League. To improve further we have to harness that nucleus and to improve in a tactical way.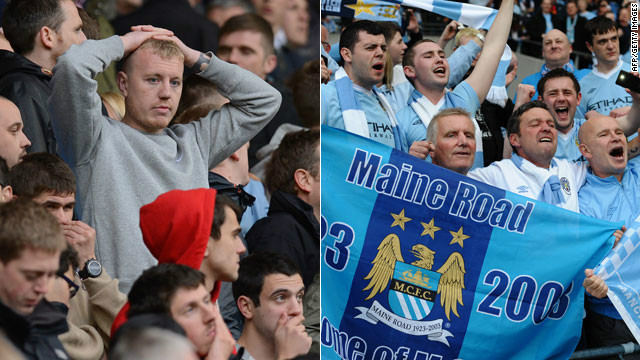 On a day of high drama and emotion, the blue half of Manchester was left to celebrate as Manchester City pipped their city rivals to the title. Click on for the highlights ...
20 mins: Manchester United, relying on City to slip up against QPR, score first through Wayne Rooney in their must-win match at Sunderland. Advantage United!
39 mins: Back in Manchester, Pablo Zabaleta puts City back in the driving seat as Paddy Kenny fails to keep his shot out.
48 minutes: A terrible mistake from Joleon Lescott allows Djibril Cisse (center) to race through and equalize for QPR. Advantage well and truly with United!
54 minutes: With City looking shell-shocked, QPR captain Joey Barton is sent off after a clash with Carlos Tevez.
66 mins: Unbelievable! Jamie Mackie (3rd from left) puts 10-man QPR 2-1 ahead after a rare counter attack. Classic smash and grab -- the City players can't believe it.
92 minutes: With time added on City grab a lifeline through substitute Edin Dzeko (right). But City need to win. United have beaten Sunderland 1-0!
95 minutes: City have done it! Argentina striker Sergio Aguero is mobbed by teammates after scoring the winner with seconds to go in injury time.
City manager Roberto Mancini (center) runs to greet his jubilant players after their breathtaking victory.
Victorious captain Vincent Kompany holds aloft the Premiership trophy ...
... while United players look dejected as the result from Manchester filters through.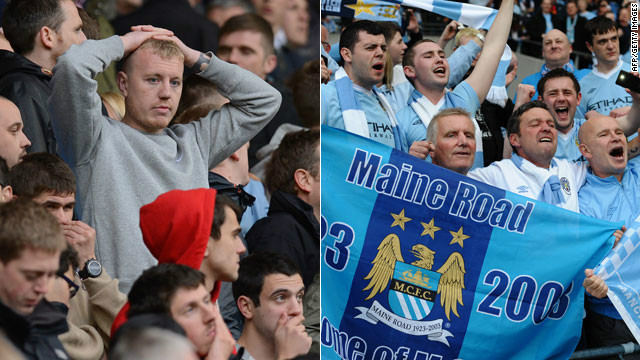 Celebration and heartache: A city divided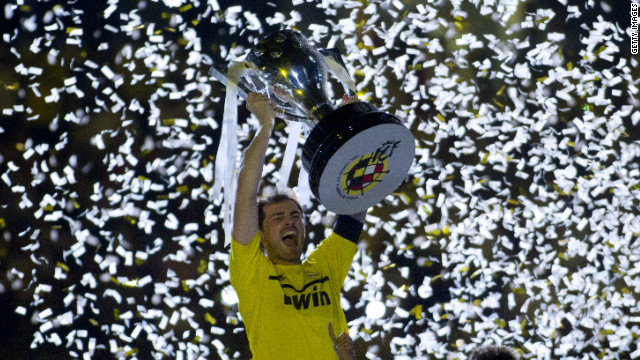 Real Madrid captain Iker Casillas lifts the Spanish Primera Division trophy after Jose Mourinho's team defeated Mallorca 4-1 on Sunday. The 32-time Spanish champions finished the season with 100 points, a record amount.
Villarreal midfielder Marcos Senna cut a forlorn figure after a 1-0 defeat to Atletico Madrid condemned the 2006 European Champions League semifinalists to relegation from the Spanish top flight.
Manchester City beat archrivals and neighbors Manchester United to the English Premier League title on goal difference, after two goals in stoppage gave Roberto Mancini's side a 3-2 victory against Queens Park Rangers.
Defeat in Manchester would have sent QPR down, if Bolton Wanderers had beaten Stoke City. But Owen Coyle's team could only draw 2-2 at the Britannia Stadium, a result which ended Bolton's 11-year stay in the Premier League.
Veteran striker Alessandro del Piero celebrated his final game for Juventus in style, scoring as the Italian champions beat Atalanta 3-1. Juventus were undefeated throughout the 38-game league season.
Filippo Inzaghi marked his final game for AC Milan in similar style to Del Piero, netting the winner in a 2-1 defeat of Novara. Milan finished second, four points behind Juve.
Borussia Dortmund were crowned champions of Germany for a second year in a row, with Jurgen Klopp's side finishing eight points ahead of Champions League finalists Bayern Munich.
At the bottom of the Bundesliga, Hertha Berlin were relegated after losing a two-legged playoff against Fortuna Dusseldorf 4-3 on aggregate. The result means Fortuna, who finished third in Bundesliga 2, will return to the top flight next season for the first time in 15 years.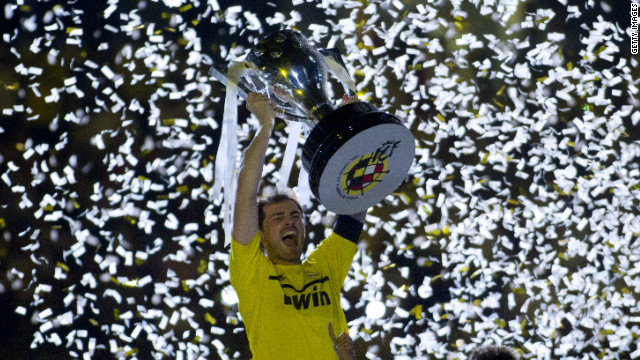 European football season review
"You're not going to see any major changes. There will be improvements but it will be in a very manageable way.
"When you look at financial fair play, when you look at what the academy does for the community, how do we manage the evolution of this club over the next 10 years, it is fundamental to our growth strategy to have a continually successful program that produces young talent into the first team.
"Already today there are some wonderful young players in the academy and the reserve team, players who I think will be future superstars."
Khaldoon said this season's success will help further City's goal of becoming one of the world's biggest clubs.
"Today we are a global brand, that wasn't the case three years ago. We go to the United States, Malaysia, China, Argentina ... Manchester City has become an important club with a growing fan base," he said.
"If we are not there already, we are very close to being the most popular club in the Middle East. Asia is a huge market with a lot of potential and as Premier League champions that gives us a lot of benefits, the same with North and South America."
Manager Mancini and his squad paraded the trophy on an open-top bus tour of the northern city on Monday.
To continuous chants of "champione" there was a massive roar when the team first emerged on a raised stage in front of the historic town hall.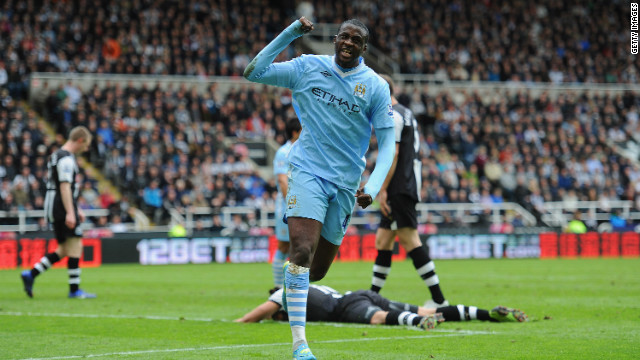 Yaya Toure's two goals against Newcastle put Manchester City in pole position to clinch the English Premier League title. The club's last domestic championship came in 1968.
The Ivory Coast international scored the only goal in last year's English FA Cup final against Stoke, ending a 35-year trophy drought for City.
Toure's older brother Kolo joined Manchester City a year earlier in 2009, having moved from English rivals Arsenal.
The midfielder was not such a key player at his previous club Barcelona, and filled a central defensive role in the 2009 Champions League final victory against Manchester United.
Two weeks earlier, also playing in defense, Toure scored the opening goal as Barcelona beat Athletic Bilbao 4-1 in the Spanish Cup final.
Toure played in the Ivory Coast's first World Cup in 2006, and also appeared at the 2010 tournament. He suffered defeat in final of the 2012 Africa Cup of Nations, and his six-week absence was crucial to City's loss of form.
Toure has played in the European Champions League for several seasons, and is pictured here on duty for Greek club Olympiakos against Lyon in 2004.
He started his European career with Beveren in Belgium, before moving to Ukraine's Metalurh Donetsk in 2004 along with compatriots Arsene Ne (left) and Igor Lolo (center).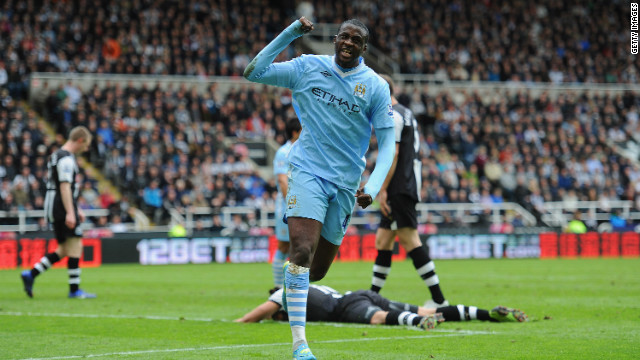 Yaya Toure's football journey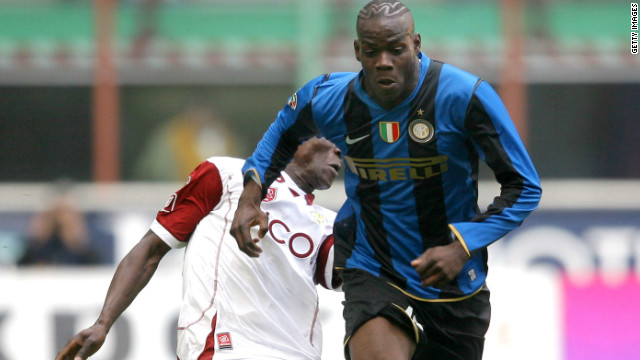 Balotelli's first-team debut came in December 2007 as a subsitute with Internazionale. Three days later the 17-year-old scored two goals during Inter's 4-1 Coppa Italia win against Reggina.
Balotelli became the youngest Inter player to score in the Champions League in November 2008 when he netted against Cyprus's Anorthosis Famagusta. He was 18 at the time.
Man City signed Balotelli from Inter for £24m in August 2010. The deal was made under manager Robert Mancini who this week hinted the player may be sold unless he reels in his controversial behavior.
Balotelli is red-carded after a foul on Arsenal's Barcary Sagna on Sunday. Man City lost the match 1-0, with manager Robert Mancini later saying: "It's clear he's created big problems, but he's scored important goals."
Berlotelli's off-pitch antics have taken their toll on the squad with manager Robert Mancini admitting last week he'd punch the forward in the head if they were teammates. It's been a rocky year for the 21-year-old who caused severe damage when he let off fireworks in his bathroom and on Thursday crashed his Bentley in Manchester.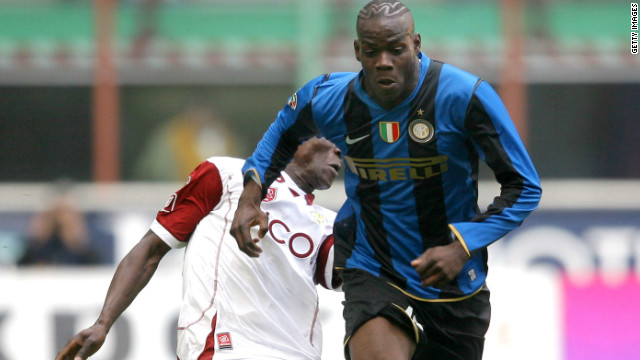 The highs and lows of Mario Balotelli
Mancini and captain Vincent Kompany received the biggest applause when they came out last, carrying the EPL trophy they had snatched from city rivals and defending champions Manchester United in the dramatic finale.
City beat QPR 3-2 Sunday with two goals in stoppage time from Edin Dzeko and Aguero to edge out United, 1-0 winners at Sunderland, on goal difference.
Belgian star Kompany told the gathered fans: "I want to say thank you, you guys have been amazing."
Mancini added: "I think that you should be proud of these players. They did everything for you. They wanted to win this championship for you."
For United fans, there was also some consolation late Monday when the club announced that veteran midfielder Paul Scholes would play on for another season.
The 37-year-old former England international midfielder came out of retirement midway through the campaign and starred for the former champions in several matches.
However, Ferguson was not complimentary to City's spending policy when he talked about his postseason plans, with both clubs having been linked to young Belgian star Eden Hazard -- who is expected to leave French club Lille.
"We know City are going to spend fortunes, pay stupid money and silly salaries. We know that happens. We can't do anything about that," Ferguson told United's television channel.
"We are not like other clubs who can spend fortunes on proven goods. We invest in players who will be with the club for a long time, who will create the character of the club and the excitement for our fans. We are good at that and we are going to continue that way."
Meanwhile, controversial QPR midfielder Joey Barton, who was sent off at the Etihad for elbowing Tevez in an off-the-ball incident, has been hit with two charges of violent conduct by the English Football Association.
Barton, who departed early in the second half to leave his team with 10 men, clashed with both Aguero and Kompany on his way off the pitch.
And while City celebrated their title success, Aston Villa manager Alex McLeish paid the price for a poor season which saw them narrowly avoid relegation.
Villa, among the founding members of the English football league, announced in a statement Monday that McLeish had been sacked after just under a year in charge.
The club's American owner Randy Lerner gave his reasons in a statement on their official website.
"We need to be clear and candid with ourselves and with supporters about what we have lacked in recent years.
"Compelling play and results that instil a sense of confidence that Villa is on the right track have been plainly absent."
Paul Lambert, manager of Norwich City who beat Villa 2-0 on the last day of the season, is the early favorite to succeed fellow Scot McLeish.